Kevin Rivest (5,500,000) is still our chip leader at diner break, having added another million chips to his impressive stack, but Daune Fernandez (4,700,000) is on a heater and at this pace, he could catch up to him soon.
Hot food has been served, with chicken thighs, pasta, vegetables and all kinds of salads available to our players in the tournament hall.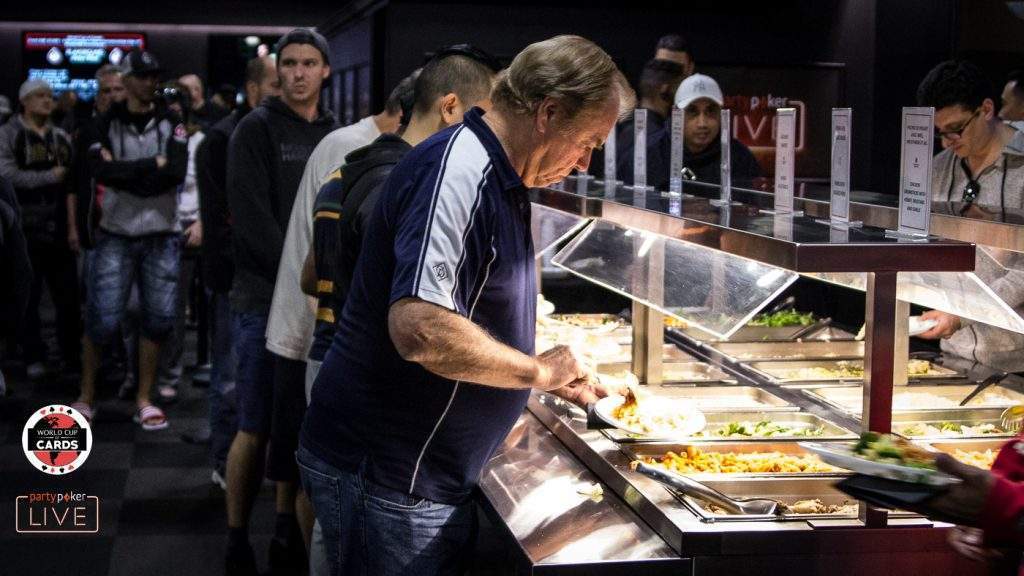 Play resumes in 10 minutes at blinds 6K/12K/a12K.
| First Name | Prénom | Last Name | Nom | Stack | Tapis |
| --- | --- | --- |
| Kevin | Rivest | 5,500,000 |
| Daune | Fernandez | 4,700,000 |
| Brady | Hinnegan | 3,600,000 |
| Shijaudin | Daud Sha | 3,400,000 |
| Eric | Afriat | 3,250,000 |
| Felix | Sides | 3,050,000 |
| Gary | Lucci | 2,850,000 |
| Sean | Gomez | 2,700,000 |
| Michel | Dubreuil | 2,700,000 |
| Sumer | Hecht | 2,700,000 |
| Jonathan | Duhamel | 2,650,000 |
| Daniel | Leddy | 2,650,000 |
| Mark | A | 2,600,000 |
| Brent | Wajcman | 2,500,000 |