Senthuran Vijayaratnam was eliminated very early on Day 1 but after taking a few hours off, he re-entered the tournament and has been building a huge stack ever since. His stack just grew considerably as well, after taking out Jason James in a huge pot that could set up and define the narrative for the rest of the tournament.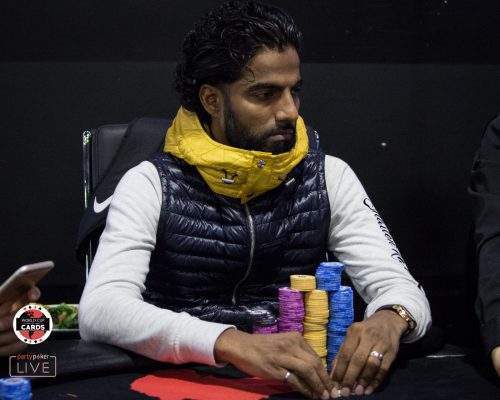 The hand was fairly standard – Sen raised, Jason raised, only to be faced by a 4-bet shove from Senthuran. Jason made the call, and once the cards were turned over it was a scenario we've all seen a million times before:
Senthuran:

Jason:
The flop was friendly for Jason:
, and the turn didn't hurt either:
. The dealer peeled off a
on the river though, and the countdown was on. By the time the dealer passed the 500K mark in Senthuran's stack, the floor assistant stopped the count – Jason was covered.
Sen is now playing a healthy amount over 1M in chips.
In just a couple of hands following Jason't elimination, Thomas Lefort and Doug Hartwick were out, and now Dustin Melanson is out as well, leaving just 11 players in the tournament.