Event 17 of the World Cup of Cards was a Crazy Pineapple Event, the preferred version of the game where you get to see the flop before tossing the third leg. The Event had a $5,000 guarantee, which was easily met by the 68 players who took part in it.
The prize pool was adjusted 3 times throughout the last stages. First, with 11 players left, discussions governed by Daniel Gates led to a deal that took some money from the top spots and paid 4 bubbles, $100 a piece. Then, when 4 players were left, they all secured $1,000 and left $1,056 for the winner. Finally, when Christian Rho and Yannick Labattaglia got heads-up, they opted to chip chop, which secured Rho $1,330 and Labattaglia $1,590. The obligatory 2% ($136) of the prize pool was left up top as company for the Champion's Trophy.
The final table went pretty quick, but things slowed down considerably when the trio formed. They battled hard and exchanged some chips for more than 2 levels, before Daniel Hsu was knocked out by 2 consecutive blows.
Labattaglia was facing Rho with a 2 to 1 chip advantage when he limped in from the small blind. Rho raised the 40K call to a strong 140K, which was met by an all-in bet. The dealer put out the flop:
. The two antagonists discarded, and tabled their best combination. As portrayed in the photo below, Yanick's
went on to win that hand, finishing ahead of Rho's
.
Christian Rho takes home $1,330, the amount indicated by his chip count at the last deal. Yanick Labattaglia is crowned Champion of the Crazy Pineapple Event and pockets $1,726 for his feat!
Congratulations!
Event 17 Champion: Yannick Labattaglia – $1,726.00 and the Champion's Trophy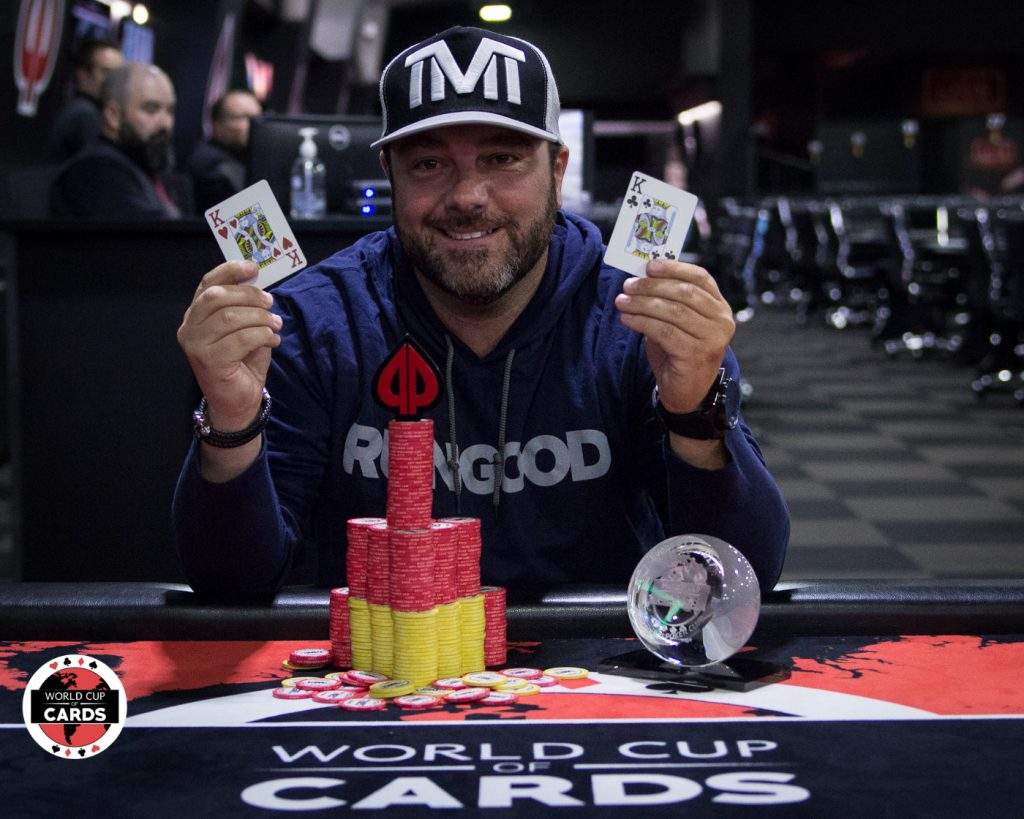 Runner-up: Christian Rho – $1,330.00
Last hand of play: