After an epic day of poker that started at 1:00pm and wrapped up more than 10 hours later, Shaan Siddiqui has emerged victorious in Event #19 in the 2017 World Cup of Cards, a $5,000 + $300 NL Hold'em 8-Max Re-entry event that ran over two days, August 30th and 31st. There were a total of 43 entries in the event including 4 new entrants this morning before play began, generating a total prize pool of $208,550.00, $81,000.00 of which was reserved for the first place finisher.
Play today moved along at a very fast pace through most of the day, with 2, 3, and even 4 eliminations per 45-minute level for much of the day. That pace slowed down drastically, however, when play got 4-handed. For much of the time 4-handed there were three players with about even stacks and one, Thomas Lefort, hovering at a much lower level – around the 10bb range. Lefort is a player who has earned a lot of respect, though, and players were loathe to double him up – and so he was able to stay alive through most of 4 levels – it took 2 hours and 51 minutes to finally move to 3-way play.
With the stacks among the three remaining players roughly equal, play moved faster and it took just a half an hour for Chanracy Khun to find himself on his way to the cashier, and just one hour more (including a 15-minute break) for the event to conclude as Shaan bested Pablo Mariz heads up.
The final hand of the tournament came almost immediately after a hand in which Pablo lost about 1/3 or more of his stack but staying alive by making a hero fold holding a flush on a dripping wet paired board. After that he was looking for a spot to double – and his spot came quickly. Shaan open limped from the sb and Pablo instantly shoved over the top from the bb.
Pablo:

Shaan:
The flop wasn't terrible for Pablo:
but when the
came on the turn, he and everyone else near the table seemed to sense what was coming:
on the river for a runner-runner 4-flush board, giving Shaan a 9-high flush and beat Pablo's 7-high flush. Shaan picked up $81,000 for his win while Pablo picked up a respectable $48,000 for his runner-up finish today.
Event #19 Champion: Shaan Siddiqui, $81,000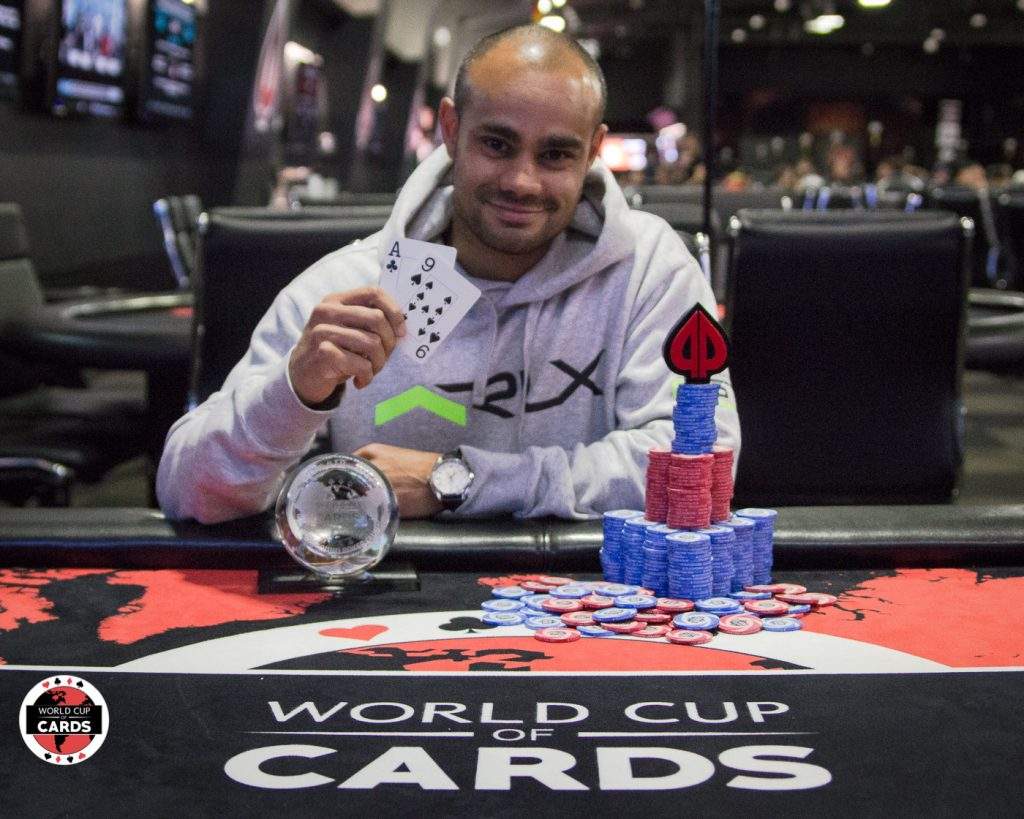 Final hand of play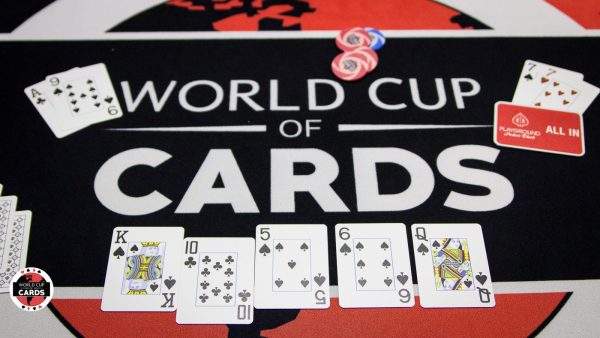 2nd place: Pablo Mariz, $48,000