The Canadian Poker Championships has come to a close after an exhilarating journey, in which players from all over the world and of all calibers of play gathered together to compete for the lion's share of a $2,000,000 prize pool.
Part of the World Cup of Cards at Playground Poker Club, this $2,000 + $200 NL Hold'em Re-entry event was composed of a healthy mix of recreational and professional players. With so many Phase 1 feeders, for which players were able to satellite into for as little as $2.20 on partypoker, this tournament gave the opportunity for any player to join the field and play for life-changing money, regardless of their bankroll. Over 336 entries were booked into Day 1 for $220 or less (spawning from 2,801 Phase 1 buy-ins), and an additional 563 direct buy-ins were made, bringing the total number of entries up to 899.
The money bubble burst at the very end of Day 2, with Leo Hackenbroch and James Rubin sharing 162nd place money due to simultaneous eliminations in hand-for-hand play. The other 161 runners locked in a payout, and 145 were left to bag onto Day 3, lead by Sebastien Labbe.
Through the 8 hours of play in Day 3, it was Winnipeg pro Patrick Serda who bagged the chip lead, fresh from a High Roller win online the day before. Former chip leader Sebastien was still near the top of the leaderboard, having bagged a second place stack onto the final day.
21 players returned to the felts on Wednesday for the closing chapter of the CPC, and play took off with a fury, sending 5 players to the rail in less than half a level of play. As the day progressed, the action slowed down considerably with the pay jumps becoming increasingly interesting.
When the final table was formed, Patrick and Sebastien were still occupying the top 2 spots on the leaderboard. Julian Volpe (9th place: $20,000) was the first casualty, and his last chips were claimed by Sebastien. Poker wizard Mike Leah took over the chip lead during 8-handed play after finding a key triple-up when his stack was beginning to dwindle.
Kevin finished off Sean Gomez (8th place: $26,000) after Darren Keyes took a big bite out of him with Ace-King over Pocket Queens, and Patrick Serda (7th place: $35,000) followed him to the rail shortly after.
With those hands, Kevin became the chip leader as play reached 6-handed play, even after Maurizio Lo Russo doubled through him with Ace-King over Pocket-Kings. He regained some chips by eliminating Sebastien Labbe (6th place: $50,000) before seceding the top spot on the leaderboard to Darren, who eliminated Maurizio Lo Russo (5th place: $75,000) with an Ace-high flush over King-high flush.
4-handed action continued for the better part of two levels, where we saw some resilient short stacks fend for their tournament lives. It was finally Mike Leah (4th place: $110,000) who broke the cycle, moving in his last few big blinds with Ace-Nine and being bested by Kevin's King-Jack.
Another level and a half went by before the next elimination took place, and it was Joel Giguere (3rd place: $156,000) who bit the dust in a two-part process. He first saw his flopped bottom two pairs be out-drawn by the pair and flush draw of Darren before going down with King-Seven versus the Ace-King of Kevin.
This led to heads-up play between Darren Keyes (479 million) and Kevin Rivest (387 million), who struck a deal before beginning the duel. Darren locked in $303,675 in the ICM deal, while Kevin secured $280,325, leaving an additional $56,000 and the champion's trophy for the eventual winner. The played back and forth for around 3 levels, with each player holding a considerable lead at some point. Darren started off strong and nearly had Kevin on the ropes, but Kevin kept his composure and managed to regain the lead after winning a string of hands.
Holding a 2-to-1 chip lead, Kevin min-raised to 33M from the small blind, and called Darren's 3-bet all-in of 232M. Kevin was in the lead with
versus
, and improved to a flush on the
board to bring the Canadian Poker Championships to a close. He secured the additional $56,000 set aside in the deal, bringing his total payout up to $336,325, and was awarded the stunning CPC champion's trophy!
Congratulations!
Canadian Poker Championships winner: Kevin Rivest – $336,325.00
Runner-up: Darren Keyes – $303,675.00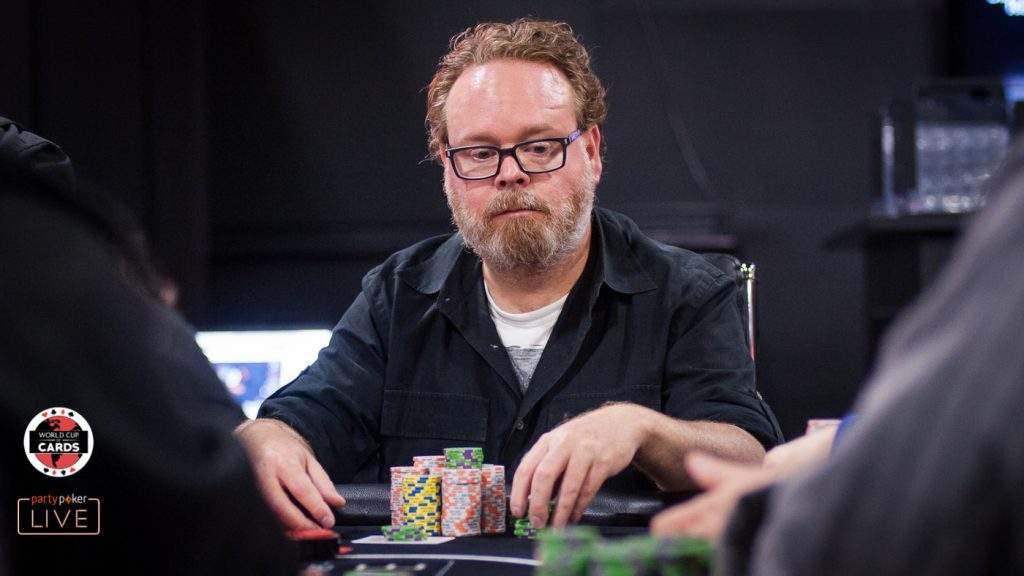 Last hand of play: